THE LINKS BELOW ARE OF FAMILY, FRIENDS, AND SOME OTHER GREAT SITES AND SEARCH ENGINES. CHECK THEM OUT!!!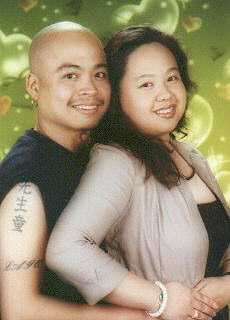 EMAIL ME AT DJRITCHE B@AOL.COM IF YOU WANT ME TO POST UP YOUR SITE IN MY FAVORITE LINKS PAGE IN EXCHANGE OF YOU POSTING ME AS A FAVORITE LINK OF YOUR OWN.
Search Engines
AltaVista You know us as the Internet's original search engine.
Lycos One of the most visited hubs on the Internet reaching one out of every two web users.
Yahoo! With over half a million sites divided into more than 25,000 categories, Yahoo! is both browseable and searchable.
InfoSeek GO Network is a new brand that brings together the very best of the Internet in one, easy to use place.
Favorite Sites
FreeServers.com FREE Web Space for All! I, Ritche Bautista, personally LOVE freeservers.com. It is very simple and easy to use, yet when you're finished, your page looks very professional!
NorthSky.com North Sky develops and markets technology and tools that facilitate interaction on the Web. To date, these tools include free web site networks, free email, and instant messaging. We combine our tools with an innovative domain name scheme and proprietary network architecture that provides unlimited scalability.
MY OTHER WEBSITE HOSTED BY GEOCITIES THIS MY OTHER SITE. I'm trying to have different website so I can get more experience of how different types of websites work.
MY COUSIN KAREN'S WEBSITE THIS IS MY COUSIN KAREN'S COOL WEBSITE. CHECK IT OUT! Don't forget to sing her guestbook.
MY COUSIN RIANNE'S WEBSITE THIS IS MY OTHER COUSIN RIANNE'S WEBSITE. CHECK IT OUT! Don't forget to sign her guestbook.
HHHLOVERS.NET ONE OF MY MOST FAVORITE WEBSITES ON MY IDOL TRIPLE H, www.hhhlovers.net
This is my other site hosted by FRIENDPAGES Ritche B's www.ritcheb.friendpages.com page. This site has articles I wrote about my life, my interests(bodybuilding, WWF), my experiences(raving/importdragracing), what I look for in the opposite sex, things like that. I think you'll find it interesting!
My good friend TRINA's webpage Trina is one of my oldest and dearest friends... check out her webpage and be sure to sign her guestbook!
www.WWFINFERNO.com This is one of the best professional wrestling sites where you can learn a lot about your favorite wrestlers like, their real names, where they're actually from, how much money they make. I found out that TRIPLE H's real name is Paul LeVesque! He also goes by the name RITCHE LAGO BAUTISTA =)
Vote on my solo pic on coldhardtruth dot com This is a pic of me you can vote on. Please give me a high score =). Really though, please give me an honest vote. I'LL GREATLY APPRECIATE IT!
Vote on a picture of Melody and I on coldhardtruth dot com THIS IS MY FAVORITE PICTURE OF MELODY AND I. IF YOU HAD TO CHOOSE ONE THING TO VOTE ON, PLEASE VOTE ON THIS! THIS PICTURE REALLY MEANS A LOT TO ME. MELODY AND I TOOK THAT PICTURE LAST YEAR 2000 ON VALENTINES DAY. WE'VE BEEN TOGETHER FOR ALMOST 7 YEARS NOW!
Vote on my picture&profile on ratemyface dot com Please rate Ritche B's face and read my profile! Am I really a babyfaced guy or do you think I look like a horse's ass? You now have the power to decide the fate of my self esteem!
Vote and let me know if you are sexually attracted to me? Vote on my pic at bangable dot com Do you find me sexy? Does Ritche B. turn you on? Am I sexually attractive or in other word.. BANGABLE? After a date with me would you kiss me goodnight or GOODMORNING ;)
Ritche B's solo pic on ekissable dot com Would you like to give me an electronic kiss on the cheek? Please vote on how ekissable I am!
Ritche B's pic on kissmedissme dot com This is a site where you can kiss me and leave me a sweet message OR you can diss me and insult my looks!
Ritche B's close up picture on hotornot dot com THIS WILL DETERMINE WHETHER YOU THINK I'm HOOOTTT or NOOOTTT
Ritche B's picture with MELODY on tentato dot com As a cute couple, do you give us a 10 or do you give us a 2?
Rate Eternal Groove Ent. on the ones and twos' picture on amibeautyorthebeast dot com HELP! As of 05/05/01 Edison and I are categorized as BEASTS averaging 1.5! Please go to this site and give us a high vote so we can be categorized as BEAUTIES =)
Rank Melody and Ritche's Pic on testyourego dot com In this picture you can clearly see the "MELODY" tattooed on my left arm! THAT REALLY HURT so can you kindly give us a high vote for all the pain I went through getting it done =)
Ritche B's solo closeup picture and profile on RATEMYPICTURE dot com This is the last one. THIS IS MY SOLO BALDHEADED CLOSEUP PICTURE AND A PROFILE WHICH ASKS SOME GOOD QUESTIONS. PLEASE, PLEASE, PLEASE VOTE ON THIS ONE BECAUSE I HAVE NO VOTES AT THE MOMENT(05/15/2001) AND WOULD LOVE TO FINALLY SEE SOMEONE VOTE AND COMMENT ON ME!
Melody and Ritche B's Valentine's Day pic on FACEWARS dot com Melody and I go head to head against other couples in FACEWARS dot com!
Ritche B's cellphone picture on FACEWARS dot com My solo pic goes head to head against other dudes' pics on facewars dot com. PLEASE VOTE FOR ME! I'M DOING HORRIBLY ON THIS ONE!
Ritche B's pictures on SURVIVALOFTHEHOTTEST dot comPlease let my pictures survive on survivalofthehottest dot com. YOU HAVE THE POWER TO VOTE OUT MY OPPONENTS AND MAKE ME THE "ULTIMATE HOTTEST SURVIVOR" and win \$500 in prize money!
Ritche B's close up picture on FACETHEJURY dot com YOU can be the jury, JUDGE, AND EXECUTIONER of my solo pic. PLEASE LET ME LIVE! PLEEAASSEE!!!

Ritche B's close up picture on MODELSEARCH dot IWON dot com THIS IS THE LAST ONE!!! Vote for me in iwon.com's next modelsearch. I HAVE DREAMS TOO YOU KNOW! =)